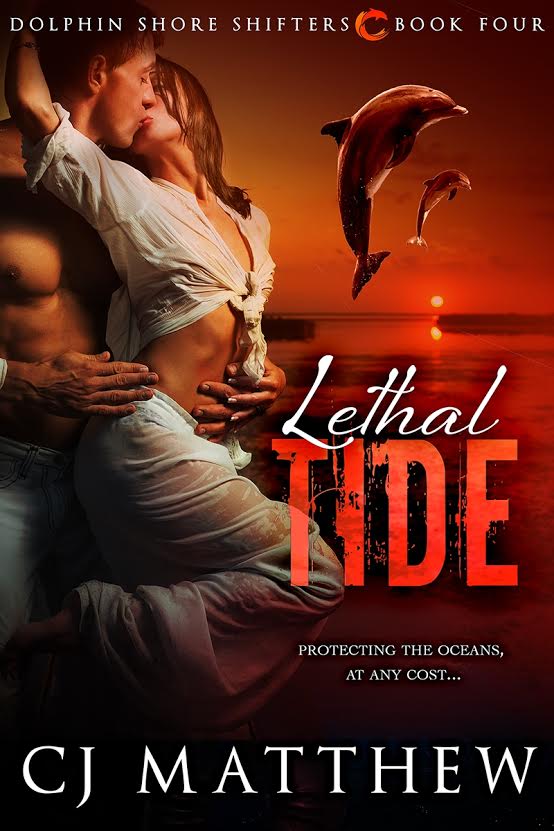 Dolphin shifter Conley Nash began his second three-year mission armed with a kick-ass agenda and an attitude to match. Since their team leader was killed, the men in SBW field ops have lost their nerve. Determined to restore the hard line, Conley can't wait to show them how it's done, facing down a greedy oil company in Long Beach. Until Conley meets his new partner…and finds his powers of persuasion need work.

First-time shifter Betty Brett can't believe she finally made it into the male-centric field ops team. Since the first female agent was murdered, before Betty goes solo, she'll spend four months teamed with an experienced operative. But did it have to be Conley? No matter how temptingly handsome he is, Betty refuses to take grief from a trigger-happy male and certainly not one whose knuckles drag the ground.

When the oil company resorts to violence protecting its illegal fracking operation, Conley finds himself out-gunned. Either he and Betty compromise, fast, or they'll be dead before they can unravel the perplexing feelings they have for each other.
(review request submitted by the author for an honest critique) 
Dolphins are not the most popular shifters out there in the literary world, but CJ has once again constructed a story which is more memorable than most shifters stories I've read to date. 
The SBW missions do center around hazards to our water sources, a topic not so thrilling, but CJ has made the journey to the final showdown far from boring. 
It's mostly due to the great cast of characters and their interactions with each other. 
A) River: the comedian. He had me in stitches in the scene with the cracked ribs.  I know you'll be laughing when you read it, too. 
B) Seth: curious little neighbor boy and honorary "agent". He earned his title because without his countless assists, they would've been up shit creek without a paddle. 
C) Conley: Alpha dolphin/shifter who learned the value of teamwork. Yup, there's no I in TEAM.
D) Betty and Marina: two hot geekettes who proved guns weren't always the best weapon of choice. Nope, sometimes it's best to let your brain fight your battles for you. 
There are many more characters but I'll stop there. 
1.) Chapter 14 – sex in the shower: Sex in the ocean as dolphins. Sex in the shower as humans. Makes no difference to dolphin shifters. Water is sensual whether on or off dry land. Am I right? 😉
2.) Chapter 21: River went to Taco Bell where the lovely Kam was his server. This section absolutely, positively made my day. <3
I could keep going on about what I liked about Lethal Tide, or I could just end my review with 3 simple words……
Buy Lethal Tide!! 
Heart Rating System – 1 (lowest) and 5
(highest) 
Score: ❤❤❤❤1/2
Now that you've had a sneak peek at CJ Matthew's hot new book, Lethal Tide (LT), WHO IS READY TO WIN?
Ladies and Gents, CJ is offering ONE LUCKY WINNER a stupendous prize package. 
In it, the winner will receive the following items: One SBW tall metal water bottle, a SIGNED PAPERBACK copy of Lethal Tide, a LT book mark, a fancy LT keychain, plus trinkets: which are little plastic dolphin key chains, temp. dolphin tattoo, dolphin stickers. 

And guess what? This amazing contest is open to anyone; no matter where you call home!! 
To enter, all you have to do is leave a comment below. 
So if you like paranormal tales (shifter books), then I encourage you to ENTER TODAY. 
You'll have until WEDNESDAY (midnight, central time) to enter. THURSDAY morning, I will post the winner's name and attempt to message you. Please follow the comment thread or come back on Thursday to see if you are the lucky recipient of this amazing prize package. 
Good luck!!!
CJ Matthew is the author of paranormal romance suspense series Dolphin Shore Shifters. Her debut novel, Blood Tide, features a pod of dolphins posing as humans that work through their oceanic conservation corporation Save Blue Water, based in Santa Barbara, California, to protect the oceans at any cost.

CJ grew up in an Air Force family that travelled all over the U.S. and around the world. She spent her high school and university years living in California, which inspired her love of marine life and the Pacific Ocean.
A member of Georgia Romance Writers (GRW) Romance Writers of America, CJ lives and writes near a lake in the woods northeast of Atlanta. When she isn't writing or reading romances, CJ likes to travel and to spend time with her two grown children, a brilliant grandson and a feisty cat named Max.
Website Link
Twitter
Facebook
Amazon author page
Goodreads author page